I've loved music all my life. One of my earliest memories is playing my copy of Christmas with the Chipmunks repeatedly during the month of December. Following that, I received  the New Kids on the Block's Hangin' Tough as a birthday gift.
I listened to it once, then promptly threw it in the corner of my room, never to be heard again. I hope it calcified into the floor.
As I got a little older, I discovered harder music. The devil's music. Rock and roll. Bands like AC/DC, Iron Maiden and Guns and Roses came into my life, but when a friend of mine introduced me to KISS when I was ten, there was no turning back. My eyes couldn't believe what they were seeing, and when I got my own copy of Destroyer a few months later for my 11th birthday, my ears couldn't believe what they were hearing!
From there I became a KISS fanatic. Twenty-seven years later, I'm still part of the KISS Army. With the band nearing 50 years in the music scene in one incarnation or another and having just announced their End of the Road tour, I figured this Creature of the Night would look back at his KISS fandom and highlight what I consider to be the best of what KISS had to offer.
We've got Nothin' to Lose. Because All Hell's Breakin' Loose today on PopLurker!
Best stage costumes: Gene Simmons and Ace Frehley
KISS have never been one's to shy away from what propelled them to success in the first place; their look.
The music is important sure, but for the Hottest Band in the World it's always been about the spectacle. From the fire breathing, rocket launching, smoking guitars, levitating drum kits and blood-soaked mayhem, KISS put on a show that you would run and tell your friends about. Then they'd tell their friends and over time the group would go from playing in front of 20 people to 20,000. Part of the theatrics of course involved the bands stage costumes and personas. I love Paul and Peter, but for me the two coolest and who I most wanted to emulate and dress up as for Halloween were Gene Simmons and Ace Frehley.
Halloween was made for Gene with his love of classic monster movies and comic books. While Gene's look would evolve throughout the 70's to include more armor (he is the God of Thunder after all), I always preferred a more straightforward and simplistic look from the Demon. Gene's appearance during the Dressed to Kill/Alive! era of the band is my favorite. Simple black leather, spikes and a sinister black bass guitar along with the blood and the fire spoke more Demon to me and less superhero as his later incarnations would become.
Anyone who has known me for a minute, knows that Ace will always be tops in my book. The Spaceman just exudes an effortlessly cool vibe about him and his costume from the Destroyer album and tour for me is still his best. Many a young boy picked up a guitar because of the Spaceman and Ace is arguably the one member of the band we still talk about the most to this day, and not that other guy; old whatshisname with the make-up pretending to be Ace, while many of the girls of yesterday and today have imagined taking a Rocket Ride of their own care of Mr. Frehley.
Lady space, you better wake up fast.
Best live album: Alive II
This could have gone either way. Alive! was the record that blew the doors off the rock scene in 1975 and made KISS a household name and has all the classics. "Deuce", "Parasite", "Black Diamond" just to name a few. The first time I heard Deuce on my Walkman on the car ride home from the mall was when the hooks sunk in and I was trapped in this rock and roll hell.
But, Alive II has plenty of classics from the one two punch of "Detroit Rock City" and "King of the Night Time World" that opens the record, to Gene bellowing out the chorus of "God of Thunder" so violently after Peter finishes his drum solo you'd think the arena walls were ready to crumble. "Making Love" also sounds incredibly powerful and then there's the bonus tracks with "All American Man" and "Rocket Ride" as the standouts. And seriously, who can forget that gatefold?
Best non-makeup album: Asylum
Asylum doesn't get nearly enough love. Maybe it was due to it being the 80's and glam was in full swing, with KISS jumping on the bandwagon in their own right, and while Crazy Nights and Hot in the Shade ended the decade in rather weak fashion, their mid 80's run of records after removing the makeup was stellar. Lick It Up and Animalize are great, but Asylum is my favorite and what I consider their best work from this time period.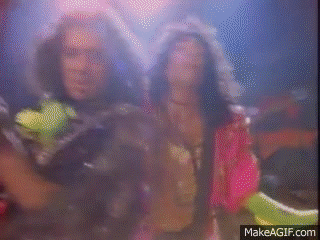 When Eric Carr joined the band at the beginning of the decade, he brought a powerful presence behind the drum kit that, truthfully, Peter lacked. This is no slight on Peter he was perfect for the 70's, but Eric gave the band a major shot in the arm. "Tears are Falling", "Uh! All Night" and "Who Wants to be Lonely" are the three monster tracks on the record, but deep cuts like "King of the Mountain" and "Love's a Deadly Weapon" rock just as hard.
Those music videos though, man.
Best album cover artwork: Rock and Roll Over
Going back to imagery again, when you're in the record store, whether it was back in the 70's or 80's when record stores ruled the way we got our music, or even today with their resurgence, you're more likely to buy a record if the cover stands out. If it grabs you, and makes you examine it, flip it over and take in all that it has to offer, you're gonna plunk your cash money down, take that sucker home, and crank those speakers to 11!
KISS have always had visually captivating artwork with their album covers, from Destroyer to Creatures of the Night, but for my hard-earned money Rock and Roll Over is their best. The vibrant colors, the four heads encircling the front, with Ace blasting lasers from his eyes and what is that behind Paul's head? Wings? It's a visual feast on top of a musical feast for what is arguably their best record ever, but we'll get to that later.
A great band and a great album cover should be influential and while Anthrax have always been heavily influenced by KISS maybe in part to being kids from the streets of New York just like their heroes, Anthrax have covered several of the Hottest Band in the World's songs over the years, but the ultimate sign of influence and tribute was when they paid homage to Rock and Roll Over's cover with their own Kings Among Scotland release earlier this year.
Best solo album: Ace Frehley
Any KISS fan worth their salt and who claims to be a member of the KISS Army will tell you that the four KISS solo albums from best to worst go Ace, Paul, Gene and Peter.
Peter's was fine, I like some big band music once in a while, but it was bit of a departure. Gene's is…different. I've always been about experimentation and trying new things, but outside of "See You in Your Dreams", sorry Gene this gets a pass from me. Paul's is good and is more straight ahead rock and roll with the frills you might expect from Paul.
But it should come as no surprise that Ace's record was and is still the coolest. From Rip It Out to kick off the record to the instrumental Fractured Mirror to close it out, Ace Frehley is flawless, timeless and is just as fresh and exciting as it was 40 years ago.
This is one of those clichéd, "if you were trapped on a desert island what albums would you take" records, but I can seriously listen to it forever.
Best cover song: Calling Dr. Love by Shandi's Addiction
Aside from having a band who are fans of your work pay homage to you with an album cover mirroring one of your own, the tried and true way to pay tribute is to cover your songs.
The Kiss My Ass tribute album in 1994 did just that when several different musical acts came together and put their own spin on the KISS catalog. I can appreciate when a band wants to pay the ultimate tribute and try to cover it note for note as perfectly as they can whether it's Hammerfall's cover of "Detroit Rock City" on 2002's Crimson Thunder, Anthrax' cover of "Parasite" from their Attack of the Killer B's EP or hell even Garth Brooks rendition of "Hard Luck Woman" that was found on this album.
But, it's more fun and interesting when you make a song your own and the cover of "Calling Dr. Love" by Shandi's Addiction stands out as my favorite. It's a little weird, but when you've got members of Tool, Faith No More and Rage Against the Machine working together, it's bound to be weird.
Side note, it only took me twenty four years to realize just the other day that Shandi's Addiction got their name from the song Shandi off Unmasked. But, let's be real. How often do any of us sit down and listen to Unmasked?
Best KISS Merchandise: Love Gun set by McFarlane Toys
One thing KISS has never had a shortage of is merchandise.
From caskets to condoms, to comic books to action figures, KISS has you covered no matter what you're looking for, and in 1997 the band signed a deal with McFarlane toys to develop a line of action figures from the same mind that gave the world Spawn.
My favorite is the Love Gun set/diorama that was sculpted to resemble the Ken Kelly artwork that was the album cover for their 1977 release. Looking online, I see this piece of merch going in the $300-400 range on eBay and Amazon. But, there's a vendor at a local farmers market in my city selling it for $70! Canadian! Talk about Rock Bottom pricing…
Puns aside, I'll be swinging by and picking this up just in time for KISSmas, because you know that I've got to have you, I've got to have you!
Best Film Appearance: Detroit Rock City
All of you who thought this was going to be KISS Meets the Phantom of the Park, raise your hands!
Liars.
What's the difference between KISS Meets the Phantom of the Park and Detroit Rock City? Detroit Rock City doesn't suck.
I've talked at length about the many problems that was Phantom of the Park, in what was my first article ever for PopLurker. Detroit Rock City though feels like a movie made by KISS fans for KISS fans. Four friends in the 1970's form their own band Mystery as a tribute to their make-up and platform boot wearing heroes. And, when they get the chance to see the boys in concert, you know they're gonna start the car and try to make the midnight show!
All of us fans can relate to the horror stories of the road trip, from cars breaking down to picking up random hitchhikers, to knocking back one too many alcoholic beverages and hurling in front of Gene Simmons wife…well, maybe not that last part. Detroit Rock City is a super fun movie and is like the film version of Creatures of the Night to Phantom of the Park's Dynasty.
Man, that album sucked.
Best Album: Hotter than Hell
An album that didn't suck is my choice for best KISS album ever. As a kid though I'd always stare at that cover and think to myself…what are Paul and Peter doing?
This may be a controversial choice. Many of you would probably pick Destroyer or Creatures of the Night or even the first album, and those are all fine choices and they all sit in my top five. Yes, the production on Hotter Than Hell was far from stellar. Songs sound a little tinny and at times like they were recorded in a bus station bathroom. Hell, it was 1974 who's to say it wasn't?! KISS wasn't exactly rolling in the pinball machine and action figure dough just yet.
But, Hotter Than Hell has always been my favorite KISS record because of its flaws. The record sounds dirty and it's a little sleazy at times (Goin' Blind anyone?!). However, top to bottom it's nearly a perfect record with Comin' Home being the weakest track.
From "Got to Choose" and "Parasite", to the title track and "Watchin' You" right down to the heaviest song on the record and arguably the bands heaviest song ever in "Strange Ways" with Peter's raspy wail and Ace's blistering guitar solo, after the album is over you feel like you want a cigarette and a shower.
Members of the KISS Army, this was my countdown of my all-time favorite band and I'm sure a lot of you will disagree with me on some of these choices, but with the band (allegedly) wrapping up their career after four decades of amazing music, performances and no shortage of controversy to talk about, there's no doubt that this street band from New York have always done things their way, so put on your own make-up, fire up your favorite KISS playlist, and don't let them tell you that there's too much noise.
Because as a wise man once said, it ain't a crime to be good to yourself.
Jonathan is worth a deuce, some thrills in the night, but he definitely wasn't made for loving you. He's hanging out in that firehouse known as Twitter.
Follow PopLurker on Twitter, Facebook, and Instagram or Buy us a Coffee on Ko-Fi!