PopLurker would like to thank Disney for providing a review copy of 'The Magic Book of Spells' from Star Vs The Forces of Evil. 
Holy sweet goodness, this book is packed. 
Before I get into the book itself and its content, I have to say how much I appreciate that these sort of 'franchise extras' still exist. As a kid, I loved all of those books from The Simpsons. My favorite Simpsons book from my own childhood was Bart Simpson's Guide to Life. It was slim (compared to the Star book, at least, which comes in at 288 pages), clocking in at only 192 pages. But I loved that book. I could carry The Simpsons with me everywhere, and I did! Later, as a pre-teen, I had numerous Beavis and Butthead books on my shelf. Not that terrible Behind Beavis and Butthead book, but the actual comedy books. To this day, I call Curious George 'Curry Greg' because of a singular joke in a Beavis and Butthead book from the late 90s.
That my friends, was early Meme culture!
Recalling my own enjoyment of these cartoon books, or extras from the universe, extended franchise, or whatever you want to call them, I'm so excited that kids today are able to experience the same joy. Star Vs The Forces of Evil is so immensely popular; rightfully so! And while the first season was a fun and exciting romp, the show really exploded with its arcs, plot, and voice at the start of the second season.
You can see from the book cover on the left and the book in the show, the design remained faithful. One of the things that makes this book, The Magic Book of Spells, so exciting is the amount of involvement by show creator Daron Nefcy! From co-writing the whole thing up drawing new art, it's completely evident that Daron was hands-on for this entire thing. How many other show runners will just do that? Seriously, it's amazing! I so admire the love and dedication that woman has for her show and its history/world building/lore. The other Star books on the shelf are more like comic books or slim graphic novels. I actually own one of them.
From the back of the book:
Are you a queen of Mewni? No? Then how in the name of pudding did you get this book?! Don't answer. You've probably already snuck a look inside. Or if you hadn't before, NOW you will. Go ahead. I'll wait.
Are you back yet???????
I'm bored. 
Did you happen to see my favorite silkworm, Silky? I don't know why you are still reading this note when there are much more thrilling, disturbing, and magical things happening inside the book– all written bu the queens of Mewni. Interested in a spell to make your enemy eat her own feet? What about the history of Mewni dating back to the reign of Skywynne? Want to see my bedroom? I hope you're not easily grossed out.
You'd better get reading.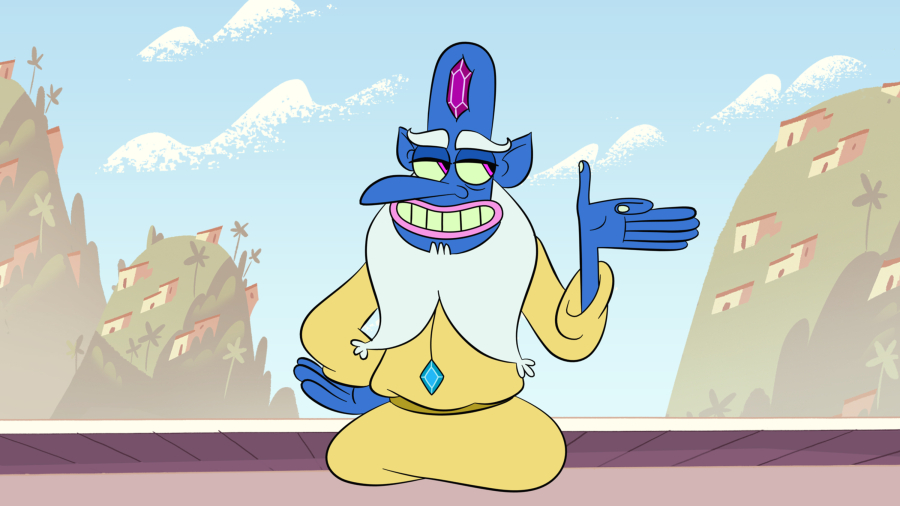 The book is narrated by Glosseryck, and discusses the history of Mewni and its queens, all of the strong and powerful women (and one boy) leading up to Star. And seriously– it is incredible. Every queen has her own distinct title, wand design, attacks, lore, hobbies, interests, and relationships with those around her. It's really fun to see the magical girl influences in the book. From the wands to the attack posing, there's lots of little nods to not just Sailor Moon (Mina Loveberry kills me everytime I see her) but from Cardcaptor Sakura, Wedding Peach, and other 90s shoujo.
Really, look at this sacred chalice.
My favorite queen is, without a doubt Solaria the Monster Carver.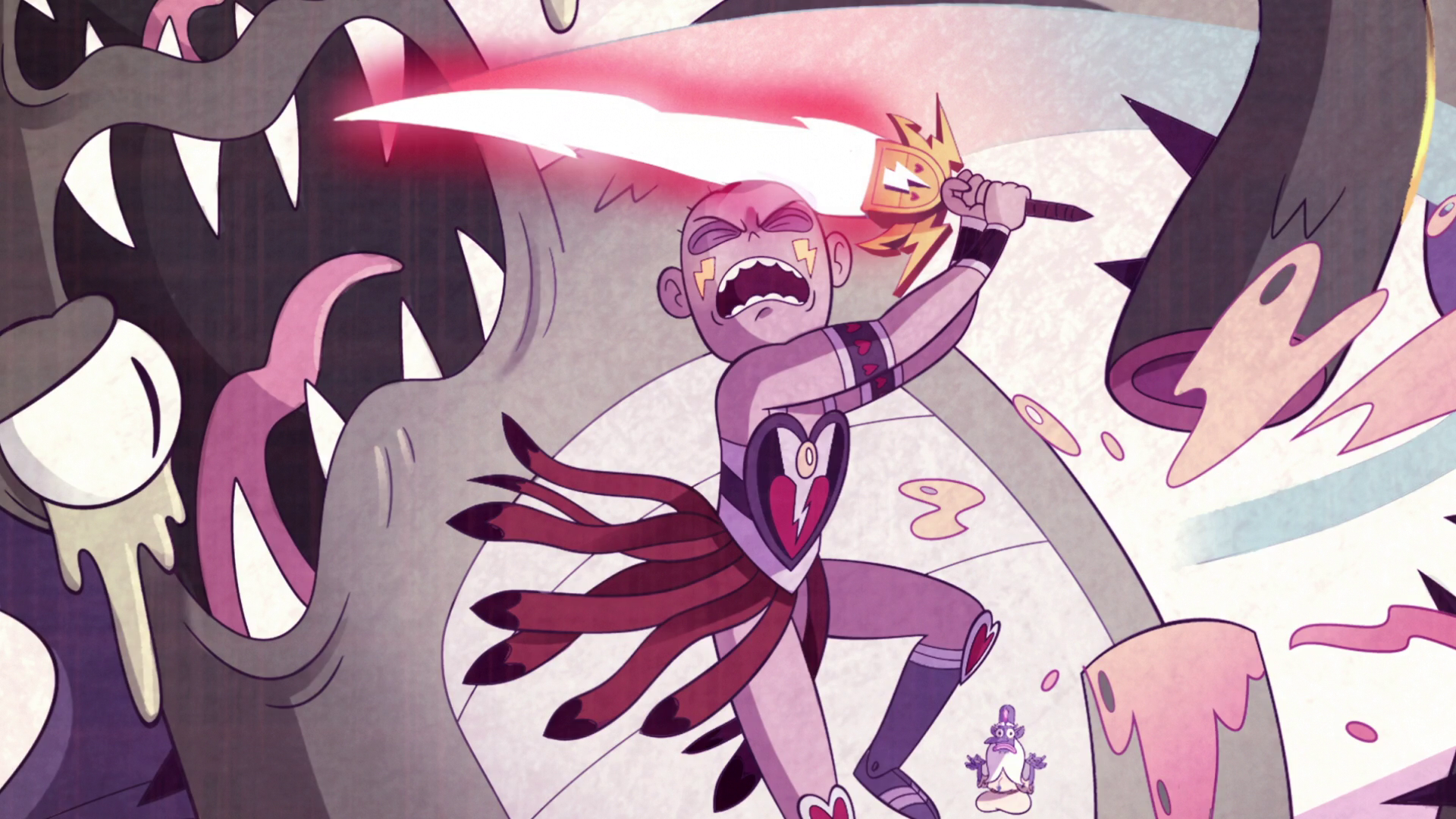 My favorite thing about the book, other than its jam-packed content and fun, lilting voice is really how distinct each chapter is! The book crew even went so far as to find different fonts for every character. Now, I'll be honest and this is my only criticism– I do not like the cursive chapters. Yes, I can read cursive. Man, I'm not that thick. But it's not pleasant for me. It takes me out of the narrative and I start focusing more on the swirling font that looks like smoke and less on the content I'm actually reading.
The chapter I enjoyed most was Festivia the Fun's chapter. Heck yes, party queen! While the book is ultimately for children, Festivia shares her favorite party drinks (legit recipes!) and more or less talks in Tweets and Hashtags. It's kind of amazing, super modern, and is language (and handwriting) that everyone can identify with!
The book goes on with stunning artwork. No detail was spared and nothing was lazy in this book. It would make an amazing holiday gift with a Star fan of any age. And really, they will spend some time with this book. It's nice and heavy, and the price tag currently on Amazon is under $15.
The moment you get through the whole book and onto Ms. Star Butterfly herself, it's actually a very exciting moment. I'm not going to lie– I might have grinned and squeaked a little when at the end of the book I saw this artwork.
She's the underestimated! But she's so enthusiastic that there's no way she won't win! Bow to the next queen, I say!
I love this book. I will be revisiting it many, many times.
I give The Magic Book of Spells from Star Vs The Forces of Evil 5/5 magic wands.
Loryn is hanging out on Twitter, Facebook, and Instagram. She's also the writer of her own book called 'My Starlight', a young adult slice of life novel about love, loss, sexuality, friendship, anime, cosplaying, and romance.
Follow PopLurker on Twitter, Facebook, and Instagram or Buy us a Coffee on Ko-Fi!